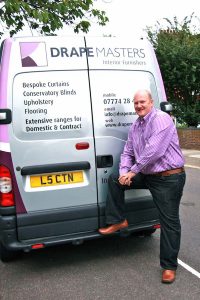 Drapemasters is an interiors company offering bespoke furnishing services. Let us design and provide curtains, blinds and indeed everything you need to transform your space. It takes time and plenty of know how to make a room feel "just right" and at Drapemasters with over 35 years of experience and knowledge, we are well placed to do just that.
Whether you're looking for something classical, traditional or contemporary or whether you really don't know what you want; Drapemasters can work with you. We'll come to you, bringing our pattern books and designs so that you can really see how your room can transform. Then by taking specific measurements, we'll give you a free estimate.
Drapemasters are here to work with you, not impose our ideas on you. We will be flexible and will adapt to whatever budget you have available, whether it is for a single product or a complete furnishing service.
There are many products we can temp you with; from simple roller blinds to complete room settings; from flooring to fine wall papers; from furniture to delightful finishing touches: And all these can be sourced just for you.
And the best bit? Drapemasters can achieve all this without you even having to set foot outside the front door.
We are located in London, Hertfordshire and Dorset.